Growing Region Franconia / Germany
Grape Variety Silvaner
Art.No. CA30-13
Package 0,75 l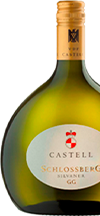 Winerie
The Castell family owns 70 hectares of the finest franconian vineyard sides. The majority is the white variety Silvaner. The terroir is characterized by a continental climate and gypsum skeuper soil, which gives the wines their spicy, strong note.
Vintage report
A long, snowy winter followed by a cool and wet spring caused late budbreak and delayed flowering. With the onset of summer, the vines enjoyed above-average temperatures with low rainfall and were able to make up for the shortfall quickly. The autumn weather with frequent rain presented us with some challenges. Thanks to great dedication and quick decisions, we have the full range of fresh-fruity liter wines to concentrated, long-lived Grosse Gewächse in the 2013 vintage.

Terroir
Schlossberg as the birthplace of the German Silvaner planting, 340m above sea level, extremely steep south-southwest slope, protected by forest, poor Keuper soil with calcareous slates
vinification
selective handpicking in small tanks, pre-fermentation partly in wooden barrels and partly spontaneously, 4 months aging on fine yeast, aging in stainless steel tanks, 50% in traditional barrels.