Growing Region Franconia / Germany
Grape Variety Silvaner
Art.No. CA30-14
Package 0,75 l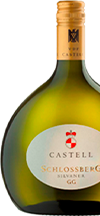 Winerie
The Castell family owns 80 hectares of the finest franconian vineyard sides. The majority is the white variety Silvaner. The terroir is characterized by a continental climate and gypsum skeuper soil, which gives the wines their spicy, strong note.
April 6th, 1659 was to become an important date for Castell, Franconian and also German viticulture - the first planting ..
Vintage report
While winter and spring were too warm and too dry, May showed its humid side, followed by a dry and warm June. After precipitation in July, we looked forward to further development with confidence. At the end of August and the beginning of September, there was no end to the rain. Quick decisions and decisive action were required. During the harvest, to our delight, the weather turned out to be dry and cool. This allowed the vines to collect additional hours of sunshine to develop fully ripe grapes. Harvest: Selective hand harvest into small bins on October 15-21, 2014 at 97° Oechsle.
Terroir
Schlossberg as the birthplace of the German Silvaner planting, 340m above sea level, extremely steep south-southwest slope, protected by forest, poor Keuper soil with calcareous slates
vinification
Gentle whole cluster pressing, spontaneous fermentation in large wooden barrels and stainless steel, aging on fine lees for 4 months in stainless steel tanks and traditional piece barrels (about 50/50).