Growing Region Franconia / Germany
Grape Variety Silvaner
Art.No. CA33-20
Package 0,75 l

Award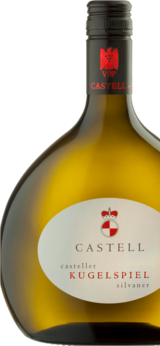 Winerie
The Castell family owns 80 hectares of the finest franconian vineyard sides. The majority is the white variety Silvaner. The terroir is characterized by a continental climate and gypsum skeuper soil, which gives the wines their spicy, strong note.
April 6th, 1659 was to become an important date for Castell, Franconian and also German viticulture - the first planting ..
Vintage report
A dry and mild winter led to a warm spring and early bud break with unfortunately some uncomfortable cold nights and frost in May. But good conditions in summer with also some rain came to an early harvest, starting in the beginning of September. Warm days and cold nights have been perfect for the aroma ripening. Very happy about healthy and stable in terms of acidity, we taste now very well balanced, developable wines with a high maturing potential.


Terroir
Casteller Kugelspiel, sandy clay soil with sand inclusions
vinification
spontaneous fermentation in stainless steel tanks