Growing Region Franconia / Germany
Grape Variety Silvaner
Art.No. CA30-15
Package 0,75 l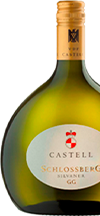 Winerie
The Castell family owns 80 hectares of the finest franconian vineyard sides. The majority is the white variety Silvaner. The terroir is characterized by a continental climate and gypsum skeuper soil, which gives the wines their spicy, strong note.
Terroir
Schlossberg as the birthplace of the German Silvaner planting, 340m above sea level, extremely steep south-southwest slope, protected by forest, poor Keuper soil with calcareous slates
vinification
selective handpicking in small tanks, pre-fermentation partly in wooden barrels and partly spontaneously, 4 months aging on fine yeast, aging in stainless steel tanks, 50% in traditional barrels.