Bürgerspital
Würzburger Stein-Harfe Riesling Spätlese GG 2017
Growing Region Franconia / Germany
Grape Variety Riesling
Art.No. BG58-17
Package 0,75 l

Award

Goldmedaille der "Fränkischen Weine"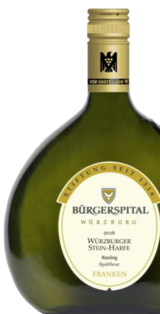 Winerie
The Bürgerspital is one of Germany´s largest wine growing estates with 300 acres. It is located in Würzburg, which is part of the Franken region. The estate is a founding member of the VDP association and offers vineyard sites like Würzburger Stein, Stein Harfe (=stone harp) or Würzburger Innere Leiste. They cultivate typical franconian grape varieties like Silvaner, Müller-Thurgau and Bacchus, aswell as some classics like Riesling, Pinot Gris and Pinot Blanc.
Vintage report
The vegetation started early. Summer temperatures were warm, and the rainfall was adequate. With hard skilled work in the vineyards, utilizing prefect canopy management and reduced yields Bürgerspital was prepared for all uncertainties and on August 15th another hailstorm struck and went over the Würzburger Stein! Despite all that, the quality of the grapes was already ripe and by the beginning of September they were able to start picking the grapes and finishing on 5th October. The earliest and fastest harvest ever recorded at Bürgerspital!
Terroir
old vines on steep slope, Würzburger Stein-Harfe- monopoly vineyard in the middle of the Würzburger Stein
vinification
preselection, whole cluster pressing, spontaneous fermentation in stainless steel tanks