Growing Region Franconia / Germany
Grape Variety Silvaner
Art.No. CA30-17
Package 0,75 l

Award

94 points Falstaff
Restaurant Wine: *****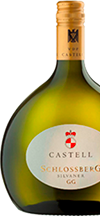 Winerie
The Castell family owns 80 hectares of the finest franconian vineyard sides. The majority is the white variety Silvaner. The terroir is characterized by a continental climate and gypsum skeuper soil, which gives the wines their spicy, strong note.
April 6th, 1659 was to become an important date for Castell, Franconian and also German viticulture - the first planting ..
Vintage report
Following a dry winter and spring time the shooting of the vines started already in April, but it was suddenly disrupted by night frost up to minus 6° C in April. At the end of August an early crop could be envisaged, and indeed they started harvesting the early varieties already on September 7, very early compared to the preceding years.
Terroir
Schlossberg vineyard, Keuper clay soil with alabaster and shale inclusion. South to southwest exposure with 40- 70% gradient
vinification
Single bow. Selective hand-picking in small boxes. Gentle pressing, ageing in large wooden barrels on the yeast